If you like Action MMORPG games, keep an eye out for Guardians of Ember, a new hack and slash adventure coming to Steam this December. The game is brought to us by InselGames and Runewaker, the same talented team that developed the successful Runes of Magic and Dragon's Prophet. In addition to PvE combat and a diverse skill tree, Guardians of Ember will feature many features fans of this genre will be sure to enjoy.

This game is set in the land of Olyndale where a holy war between the forces of good and evil have been fighting for control of the region. The Human Empire has aligned itself with Elves, Naia, and Dwarves to combat those that worship death and chaos. Your quest is to find the Holy Ember to help put an end to the war. In addition to the four races you will have the opportunity to choose from 6 different classes, and will be able to choose a secondary class once you reach level 15. The classes you can choose from are the following.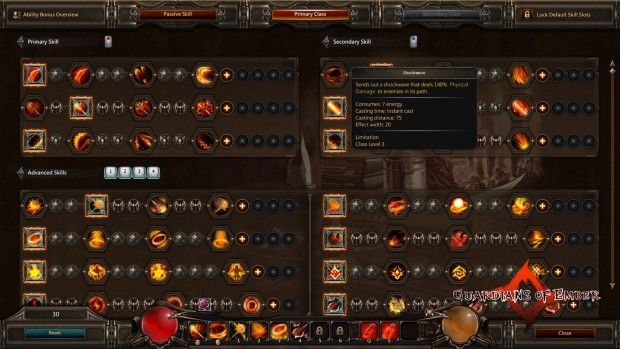 • Dark Knight – Warriors that have taken up the dark arts to combat evil forces with hopes to control them with dark magic.
• Ranger – Ruthless scouts that utilize guerrilla tactics and arrows to take out their enemies.
• Engineer – They use their gadgets and technology to change the tide of battle. Engineers are adept at setting up traps and gun turrets to engage the enemy from a distance. They also have good support abilities allowing them to tend after injured allies.
• Priest – Supportive characters that use the power of prayer to enhance their allies in the fight against darkness. However, years of fighting evil have made them formidable opponents as well.
• Mage – Disciplined warriors that study the Arcane Arts making them very formidable and dangerous in battle.
• Knight – Balanced warriors that focus on close combat using physical and holy attacks.
As you level up and strengthen your character you will be presented with over 300 passive skills to choose from. With all these customization options, there should be something to cater to every player's preference and play style. There will also be no shortage of quests as the questline has over 100 missions that will cover 60 regions that contain over 70 randomized dungeons.

Guardians of Ember even offers a PvP mode with a few different options to choose from. You can face off in 1v1, 3v3, and 5v5. This mode will take place in the Arena of Honor where there will be both ranked and unranked score systems. Not much information is available about PvP, but hopefully, victory will reward players with some valuable gear.
Your character is only as good as their equipment. In Guardians of Ember, you will have extensive customization and enchanting options allowing you to make your gear to best suit your characters strengths and enhance your overall combat experience. Guardians of Ember will even have a housing system, where you can decorate your own house with hundreds of items. You will also be able to hire sprites to give you an added bonus.

From the gameplay videos available, Guardians of Ember looks like a very fun game that has some very similar qualities to Diablo, Path of Exile, and Grim Dawn. If you look forward to playing this game be sure to let us know in the comments. More information can be found on the games official website. The anticipated price for this game has not been officially announced but there were different versions of the game listed while the game was being crowdfunded on Indiegogo.
For more news on video games and nerd culture be sure to visit us again. Be sure to follow us on social media. As always thanks for reading and game on.